General Breakfast Meeting
Thursday, June 8, 2017
7 a.m. to 8:40 a.m.
Fontana (location information provided with registration)
Cost $10 (you must be pre-registered to attend). Register Now.
Guest Speaker: Marcus Piquet, CPA of Ambrose Advisors and RPB CPAs speak on ESOPs and a guest business with real life experience in how an ESOP worked for their company.
This meeting will be great for manufacturers and businesses of all kinds. All are welcome.
Why are Employee Stock Ownership Plans (ESOPs) popular as an ownership succession vehicle?
How else can you:
Sell your business for full fair market value;
Potentially avoid capital gains tax on the sale;
Remain employed by – and in operational control of – the company post-sale;
Make your company an essentially tax-exempt cash generating machine; and
Build significant retirement wealth for the employees who helped get you where you are?
Hear, from a guest ESOP company about the costs, pros and cons and how ESOPs can be a powerful tool for success.
Agenda:
| | |
| --- | --- |
| 7 – 7:20 | Breakfast and Networking |
| 7:20 | MCIE Announcements and reports including MCIE Strategic Envisioning Retreat, 2018 Summit (Save the date for February 15, 2018) and Training Information Table: Wally Brithinee President |
| 7:30 | Guest Speaker, Marcus Piquet (with guest company) |
| 8:15 | Q & A |
Annual Manufacturers' Summit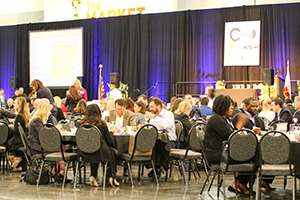 The Annual Inland Empire Manufacturers' Summit brings awareness of the importance of manufacturing to our regional economy, the opportunities for manufacturers and availability and rewards for jobs in manufacturing. Summit attendees are given the opportunity to discuss solutions to the most pressing issues facing the manufacturing community, including regulations, workforce development, resource efficiency, exporting, marketing and more.
Sign up for membership to be notified of meetings and events.
Training Classes
Training classes are available for members of the Manufacturers' Council. Notifications of upcoming training classes are sent through our membership emails.
Sign up for membership to be notified of meetings and events.