During the annual Manufacturer's Summit, a special award ceremony is held to celebrate the most innovative businesses and leaders in the Inland Empire.  These leaders have great ideas for growing the business, dramatically improving performance and addressing some of the toughest challenges in today's manufacturing industry.
E=mc² Innovation Awards will be presented to local manufacturers who submit the best innovations that result in tangible business improvement. 
Who qualifies?
Local manufacturers

Local manufacturing students
What types of innovations qualify?
Those that have resulted in a positive, tangible impact on business performance (growth, customer/ market, profit, cash, efficiency)
What categories exist?
Innovation in Resource or Process Efficiency – these innovations relate to energy, water and other resources and/or process and flow improvement (such as lean manufacturing successes) 

Innovation in Product Development – these innovations relate to new and improved products that support customer and business growth and margin improvement

Innovation in Human capital & Talent

 

– these innovations relate to building skills, empowering employees and developing top talent in the organization

Innovation in Marketing – these innovations relate to marketing and sales that result in business growth, market share and/or increased repute.

Innovation by Students – these innovations could fall into any of the categories above and must be designed or developed by manufacturing students.
How do we apply?
What is the judging process?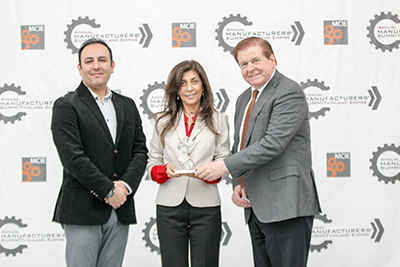 The Innovations Award committee judges the applicants.  This committee is comprised of people with a minimum of over 20 years of manufacturing experience with typically additional expertise with an academic institution or trade association/ non-profit Board supporting the industry. 
The applications are evaluated based on the innovation and the evidence (and quantification) of tangible results, directly attributable to the innovation.  Although we receive applications from all categories, we might or might not have an award recipient in each category each year.
Award Winners
History of Award Winners
History
The title of the award came about because E=mc² is the most fundamental physics formula that allows our universe to exist. Similarly, we believe there are some basic ideas applicable to most businesses that can help them become more efficient.
The underlying theme of the Manufacturers' Summit is finding solutions to current and future challenges.   The businesses that face those challenges provide the greatest resource for those answers. The E=mc² Awards are designed so those who have the solutions will have a chance to share their ideas, with a 5 minute presentation on the main stage, receiving publicity for their innovation and company.
The  E=mc² trophy is made locally by a budding inventor and entrepreneur named Dustin Venegas. He had an idea for a product, but no one would help him build a prototype at a reasonable cost. Not wanting to give up on his dream, he borrowed money from friends and bought an old Haas VF-1 CNC machine through Craig's List. He then taught himself how to use that machine and started making his inventions for sale. With the CNC machine in hand, he is able to build prototypes and improve his inventions. He was asked to use his imagination to create a unique trophy for the E=mc² Awards. We wanted something that truly represents manufacturing at its best — with an elegant design, created with skilled craftsmanship. The sketch we received left us speechless. He decided to use the Turner's cube for its amazingly elegant design. Although it's basically circles being cut out from a cube, the precision, control of the depth and the drilling from all six sides of the cube creates a geometric beauty that leaves non-machinists in awe. It was so beautiful that we asked him to not anodize the trophy so the natural beauty of the aluminum can be seen in full.