During the annual Manufacturer's Summit, a special award ceremony is held to celebrate the most innovative businesses and leaders in the Inland Empire. These leaders have great ideas for growing the business, dramatically improving performance and addressing some of the toughest challenges in today's manufacturing industry.
E=mc² Innovation Awards will be presented to local manufacturers who submit the best innovations that result in tangible business improvement.
Congratulations to our recent award winner!
2018 Innovation in Human Capital & Talent Winner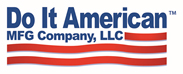 Website: http://www.doitamerican.com
Address: 137 Vander Street Corona, CA  92880
Do It American Manufacturing is founded on the belief that products can and should be manufactured right here in the United States.  To take that one step further, we believe that the highest quality, lowest cost, most responsive, safest, and most environmentally responsible way to meet the needs of customers in the United States, is to manufacture in the United States.  We have set out to be one example of how that can be done.
The company was founded in 2008 and started production in 2010.  By 2015 we had grown to occupy a 23,000 square foot building serving a diverse group of customers with a concentration in products for gas utilities.  We machine, weld, assemble and have some advanced processes, however, these are not the innovations that make us successful.  We believe that our success is found in our creation of good, lean, manufacturing process.  If you look a little deeper, you will see that those lean processes are possible because of good people working and improving together, to accomplish common objectives.  This is our innovation!
Since starting, we had been putting together a list of those things that we discovered to be most important when running a manufacturing company.  Sometime in 2013 or 2014 we reviewed this list, cleaned it up, eliminated those things of minor importance and were left with a list of 27 arbitrary points that we thought were important.  These 27 things fell naturally into a structure with four of them becoming our core values.
Continuous improvement in all area. Everything in temporary.
Always make decisions with the long term perspective.
We can manufacture cost effectively in the US.
We do not have customers, we have partners.
The remaining "key points" each fell into one of three supporting categories.
The Right People
How We Work
The Way We Behave