Become a member of the Manufacturers' Council of the Inland Empire.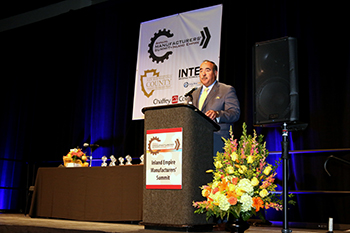 If you want to  support manufacturing in the I.E. and the jobs manufacturers  provide, and are interested in attending meetings and events, providing support through donations, educational programs, or working a committee, you are qualified for our General Membership category.
There are no dues.
Memberships are held by your organization, allowing you to send any number of people to meetings or events.
Memberships are entitle to one vote, representing the organization.
Benefits include informational meetings and communications, and the opportunity to improve manufacturing.
How do you become a member? Commit by filling out this informational form.  Commit to participate.
Please use one of the three categories that best represents your organization.
"Manufacturing Member"
If you define yourself as a manufacturer, join us as and receive specific manufacturing information.
"Supporting Member"
If you provide supply chain products or professional support to manufacturers in the Inland Empire, become a supporting member.
Sign Up as a Supporter, Vendor or Sponsor
"Agency or Educational Member"
If you provide education to manufacturers or their employees, partner in training programs, support economic growth as a governmental agency, become an Agency/Educational Member