Manufacturing Growth Potential Discussed at Annual Manufacturer's Summit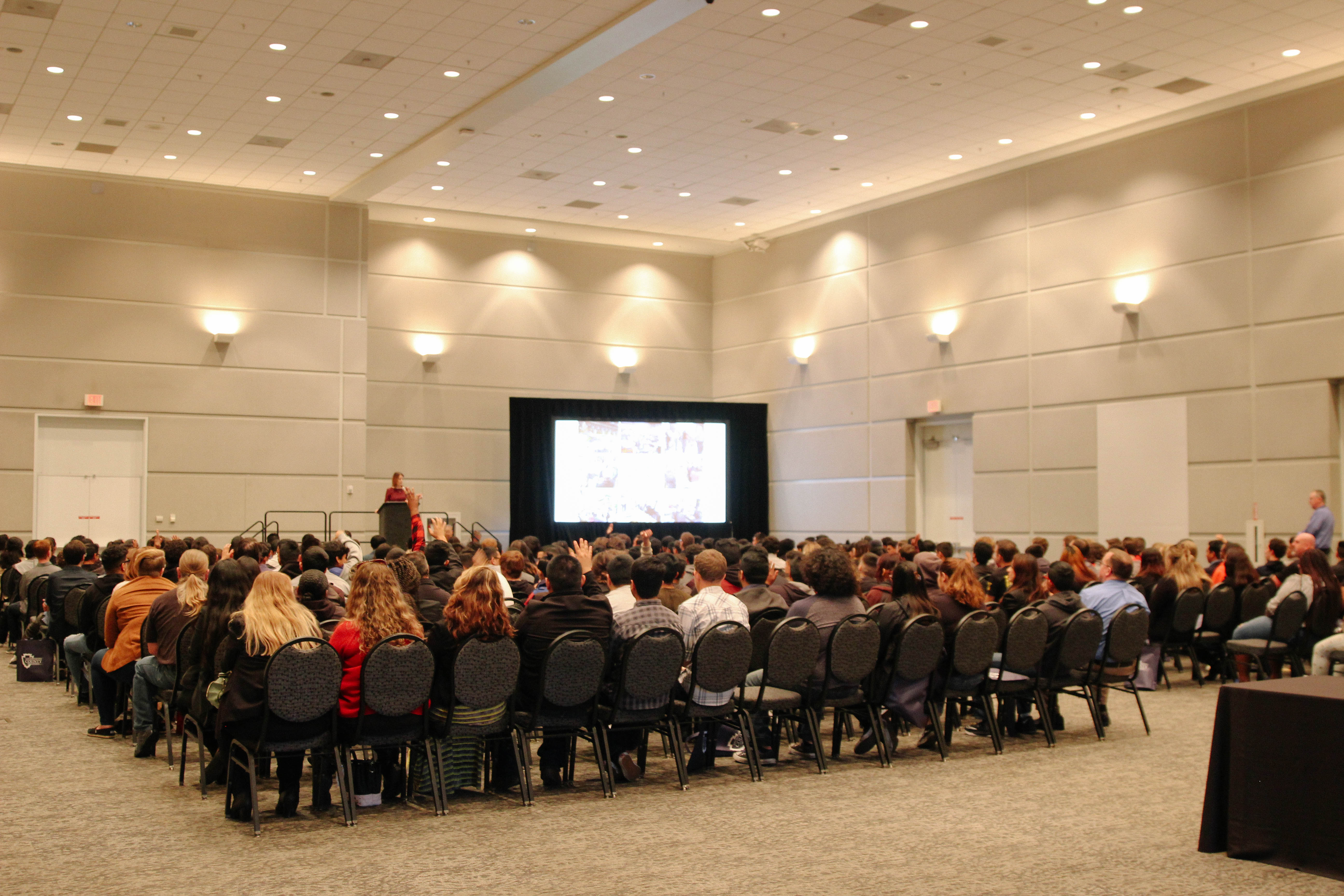 ONTARIO, CA – The Manufacturing Council of the Inland Empire (MCIE) hosted the 2018 Manufacturers' Summit on Thursday, Feb. 15 at the Ontario Convention Center. Nearly 900 people, including business leaders, students, and representatives from throughout the region, came to hear speakers from national and state manufacturing associations, as well as hear the struggles and successes of keynote speaker Titan Gilroy, Founder and CEO of TITANS of CNC, an elite aerospace machine shop in Northern California.
"The Manufacturers' Summit is a wonderful opportunity to learn about economic development opportunities in the region," said President and CEO of the Inland Empire Economic Partnership Paul Granillo. "Rebuilding our region's manufacturing industry is absolutely vital to the Inland Empire's growth."
The discussion on growth included a lack of workforce, so the Summit added a new initiative to this year's event, focusing on attracting a younger crowd to hear about potential careers in manufacturing. College Students were encouraged to attend the event through a partnership with local community colleges. The Summit offered reduced prices for students and offered scholarships to students provided by Summit Sponsors: Inland Empire/Desert Regional Consortium, Chaffey College, California Steel Industries, and Brithinee Electric.
"Exposure to modern manufacturing matters, and we know it matters in attracting students to manufacturing," said Carolyn Lee, Executive Director of The Manufacturing Institute. "Once they are interested, internships, apprenticeships, and industry certification programs give them the experience that increases the likelihood among students to pursue manufacturing careers. Companies that participate and partner with these programs help to cultivate a new generation of skilled workers and provide visibility and awareness of career paths for young people."
During the main event, a parallel program was held for high school students. Four-hundred high schoolers came from Riverside and San Bernardino counties, and students were able to hear the same speakers for the main Summit. Speakers geared their talks toward showing students how manufacturing has changed and encouraging them toward manufacturing careers.
Lee told students about the many new and different careers in manufacturing that exist. Josh Davies, author of Bring You A Game to Work, informed students how to prepare for jobs by teaching about work ethic. Titan Gilroy inspired students with the story of how he went from ex-con to manufacturing industry leader.
"One of my highest priorities is to get out to events like this and talk to students, teachers and their parents to make sure that they know that careers in manufacturing are good careers, with high rates of pay, benefits and bright futures," said Lee.
As part of the Legislative and Regulatory Panel, Dorothy Rothrock, President of the California Manufacturers and Technology Association, represented the State of California. She came to share her knowledge with manufacturers. "The cost of doing business in California is high, due in large part to state regulations," she said. "It would be good to see state policy-makers visit more manufacturers, as this could be useful in Sacramento as they set regulations. California has a good education system and a skilled workforce that could help manufacturing grow in the state."
Breakout Sessions held during the Summit gave attendees the opportunity to dive into the topics based on their business needs or personal interests. Topics included exports, finding resources available to local businesses, robotics, "The Amazon Effect," and opportunities in additive manufacturing.
For more information about The Manufacturers' Summit or the Manufacturers' Council of the Inland Empire, please visit www.mfgcouncilie.com.
The Manufacturers' Council of the Inland Empire (MCIE) was incorporated as a 501c (3) non-profit organization in 2006 and celebrates its 11th anniversary this year. The MCIE works in collaboration with Chaffey College, San Bernardino Community College District, Riverside Community College, 8 other regional colleges and the San Bernardino County and Riverside County Workforce Development Boards to create programs that will provide training to hundreds of manufacturing and distribution firms in the region.