During the annual Manufacturer's Summit, a special award ceremony is held to celebrate the most innovative businesses and leaders in the Inland Empire. These leaders have great ideas for growing the business, dramatically improving performance and addressing some of the toughest challenges in today's manufacturing industry.
E=mc² Innovation Awards will be presented to local manufacturers who submit the best innovations that result in tangible business improvement. Review our guidelines and apply here.
Congratulations to our recent award winner!
2016 Innovation in Marketing Winner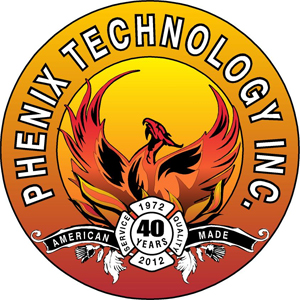 Website: http://www.phenixfirehelmets.com
Address:12391 Sampson St. #H, Riverside, Ca 92503
In 2012, Phenix Technology, Inc. engaged in a new strategy to increase brand recognition and sales on a global scale.  The company brought on several new staff members including their Chief Operating Officer who was previously a Vice President with a Fortune 500 top 20 company.  The new expanded team moved aggressively in developing a strategy that would propel this domestically successful 40 year old company into a global powerhouse in their industry.
What they did
2012
The first step that the new team took was updating the company's 40 year old logo.  The original logo didn't quite capture the true spirit of the company and over the first few months of 2012 the team moved to develop a true brand that paid homage to the tradition and history of the company while celebrating its achievements.  The "Phenix" bird was given a new powerful look.  Its wings were proudly displayed and the colors were more brilliant.  A banner was added that celebrated the company's 40 years in business and more importantly introduced the world to the fact that all Phenix Technology, Inc. products are proudly "American Made."  Everything from the shape to colors to the bird's details were changed and the new logo became the true signature of what Phenix Technology, Inc. represented.  In April of 2012, Phenix introduced the new brand at the largest annual firefighting trade show in the world in Indianapolis, Indiana.  Over 200 firefighters were present during the unveiling and the new logo was received with joyful ovation.  Shortly after the company introduced new branding procedures for all of its distributors and today the brand is easily recognizable by firefighters throughout the industry.
The next step was to take full advantage of the quickly growing social media platforms.  The company was already on the popular Facebook page with just over 1,500 followers, but they wanted to expand their presence across the various platforms.  Through a variety of creative practices the company now has over 20,000 followers on their U.S. Facebook (the highest in their industry), nearly 7,000 on their Spanish language page, and they have an active presence on Twitter, Instagram, Google+, and LinkedIn.
That year was also the company's 40th anniversary and to celebrate the anniversary they chose to give away 40 fire helmets to a department in need by having a contest.  They took to social media to promote the contest and within a few weeks over 100 departments had entered.  The contest proved to be very popular and in April the company decided to award two departments with helmets. They then decided to award the helmets in a public way and the Chief Operating Officer and National Sales Manager hit the road to personally deliver these helmets. Public events were held at both departments and Press Releases were issued.  Local and regional news coverage of the giveaways took place and industry magazines and websites shared the stories.
2013 – 2014
Almost overnight the company started to see significant sales growth. The beginning of 2013 was spent keeping up with new production demands and the company continued to increase their presence in the areas they found most successful.  They made changes to their publications including their catalogs and begin to reshape how they presented themselves at tradeshows and in the public eye.  They eliminated poor performing distributors and actively sought out distributors who were active in the digital market and also who were well known in the industry.  By the end of 2013 they initiated a needs analysis to determine where the most potential for change existed. At its conclusion, the company identified that its greatest opportunity was in "hands on marketing."  Known for having the lightest and most comfortable products on the market, they realized that a picture of a helmet could only do so much to convince a customer of those attributes.  They shifted significant marketing dollars away from low performing digital media to industry trade shows. The team felt that the best way to increase sales was to allow more firefighters to experience the helmet and as a result they created a "tradeshow in a box" program for its distributors.  The program included a tradeshow cache of various predetermined products, materials and supplies to set up a 10 x 10 booth.  The caches were sent out to distributors and within a year, the company's strong presence grew from five trade shows to over fifty.  By working with established distributors who were already attending the shows, the company was able to utilize their presence and skillset to market the products for them. With a relatively minor investment the products were now seen throughout the country at regional and local events and firefighters everywhere were experiencing their incredible comfort.  Sales began to skyrocket and the company recognized that they had found a strong approach to marketing.
In 2014 the team also came up with a new plan to promote the brand organically.  They worked with a well renowned photographer on the east coast to develop a "Leather Helmet Creed" poster that represented a traditional looking firefighter and had a message that strongly resonated with firefighters throughout the country. Over 7,000 posters were distributed and today they can be found in fire stations everywhere.  The concept was to provide an attractive poster that firefighters would be proud to display that also featured a key element, the Phenix name and logo.
2013 was also the year that Phenix started its engagement of the International community.  The company opened up an International Logistics Manager position and began an aggressive training plan to ensure they not only could market to International companies, but also that they knew exactly how to operate in a rapidly growing global market.  After hundreds of hours of training for its staff, the company hit the International scene in 2014 at a tradeshow in Dubai.  They would continue presenting the products internationally at shows in Vancouver, Canada; Mexico City, Mexico; Santiago, Chile; and at the largest worldwide show in Intershutz, Germany.
2015    
Phenix Technology, Inc. continued to promote its brand successfully and the newer markets showed one key change.  Previously, firefighters in newer markets would be heard saying, "I've never really heard of you."  Shortly after they began to say "I heard something about you."  A few years later they began to say "I couldn't wait to see your helmets."  Today the most common phrase heard at tradeshow events is "I love your helmet, I can't wait to get another one."  The brand has become so popular in the United States that over 4,000 people were registered at their booth at the Indianapolis show in 2015.  Nearly four times more than the next closest company (out of hundreds of vendors) according to show staff.  The brand was well established in the U.S market and International Sales begin to grow.
After establishing strong marketing practices the company began to look at new ways to engage the International community.  They moved to hire multilingual staff and today they issue publications and can speak with customers in English, Spanish, French, Italian, and even American Sign Language.  They issued advertisements in five different languages and started a Spanish language Facebook page that quickly grew to nearly 7,000 followers.  In the fall of 2015 the company was chosen as a finalist for Exporter of the Year by the Small Business Administration out of Orange, Ca.
Today Phenix continues to diversify their marketing through creative approaches.  Everything is analyzed for success, even down to the type of free giveaways they use at public events.  If something is done, it is done with the purpose of building the brand in the most effective and efficient way possible.  Coupled with a passion for customer service and manufacturing high quality American Made products, Phenix is recognized as a leader in the industry.
The results
Gross Sales Growth – 135% from August of 2011 to August of 2015. Even more impressive is the company's current year's sales increase of 24% from September 1, 2015 to March 31, 2016 over the same period last year.
Distributor Growth – Phenix Technology, Inc. now has 85 distributors that now physically represent 50 states (vs. 22 in 2012).  Internationally, Phenix now has distributors in numerous foreign countries including several in Canada, Columbia, Chile, Thailand, UAE, South Africa, and Australia (versus 2 in 2012).