During the annual Manufacturer's Summit, a special award ceremony is held to celebrate the most innovative businesses and leaders in the Inland Empire. These leaders have great ideas for growing the business, dramatically improving performance and addressing some of the toughest challenges in today's manufacturing industry.
E=mc² Innovation Awards will be presented to local manufacturers who submit the best innovations that result in tangible business improvement.
Congratulations to our recent award winner!
2019 Innovation in Product Development Winner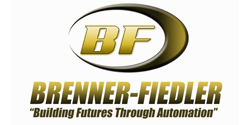 Company: Brenner -Fiedler
Website: www.Brenner-Fiedler.com
Address: 4059 Flat Rock Rd. Riverside, CA
Summary:
It can feel like a bad "case of the Mondays" all week, every week if the work environment just doesn't work for employees. We have all experienced days that feel like we are pulled in different directions and can't focus to get anything done. From cramped desks, to awkwardly positioned desk heights, the work environment can deeply impact everything from employee happiness to productivity and, ultimately, the bottom line.  
 At Brenner-Fiedler, we know our human resources are the most important resources we have. To combat the negative effects of an uncomfortable work environment – a cause of many work Related Musculoskeletal Disorders (WMSDs)  –we created custom workstations using the trusted brand of aluminum extrusion we have used successfully in hundreds of builds – Maytec. This simple change made a world of difference. 
There is a danger to the extensive reaching, grasping, turning and twisting that occur with assembly work. Whether it's testing the functionality of a smart phone touch screen or fastening the headlights of a vehicle, repetitive motion and poor ergonomic work stations have been diagnosed as the cause of many Work Related Musculoskeletal Disorders. Cost to companies for these issues are steep; between $45 and $50 billion annually in compensation, lost wages and decreased productivity a National Academy of Sciences study reports. And for employees? These injuries can make their working life painful and often, short lived.  
We wanted a solution that eliminated standing fatigue and reduced WMSDs by addressing the four design dimensions of a workstation: work height, normal and maximum reaches, lateral clearance and angle vision, and eye height. The solution is comfortable, user friendly and honed for efficiency. 
When we created the work stations, we made sure the height of the tables is ergonomically friendly for a production team. The casters give the freedom to move the tables according to work flow. In a company that is constantly evolving and growing, a setup that worked one month, might not work the next. The Maytec workstations can move, adapt, and grow with us. 
Honestly, everyone needs extra storage space. Need we say more? The bottom shelves provide that extra storage space, while the middle shelves provide tool storage. We've all heard the adage, "A place for everything, and everything in its place". The tool storage shelf keeps everything easily accessible, which in turn boosts productivity (and reduces frustration!) by limiting the amount of time procuring a needed tool. The top shelves are used as bin location for parts. With frequent repeat assemblies in production, storing parts as close to the assembly area and keeping track of them with bin assignments is key. This is an easy and effective way to keep the workspaces from becoming cluttered. We found a perfect fit for packing materials and rolls to prepare finished product for shipment by using the end caps for large hanging items.  
Overall, the appearance of our production room is so much sleeker. Sure, looks aren't everything, but it does speak volumes about an organization's values, achievements, work ethic, and professionalism. 
It may seem like a simple solution, and it is. Innovation isn't always flashy as long as it meets customer requirements and provides a host of benefits. Employees spend approximately one third of their lives at the workplace, so why wouldn't a company ensure their employees are comfortable at work while elevating productivity and lowering Worker's Comp costs?  
Brenner-Fiedler seeks to act as an extension of our customer's teams taking customer problems, large or small, and finding innovative ways to solve them.