Plan now to display at the 2019 Manufacturers' Summit
Join the "Made in the Inland Empire" displays and receive a FREE TICKET to the Manufacturers' Summit as our thank you.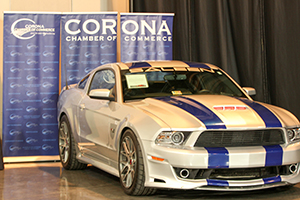 (You must produce your product in the Inland Empire area of Southern California.)
Made in the IE Exhibitors will receive:
Upon approval of your application, you will receive up to two complimentary tickets, for a manufacturer and accompanying staff, provides full access to all general and break-out sessions, including a lunch.
An invitation to a special, Executive Reception, on February 13, from 3:30 to 6 p.m., for manufacturers and the event
What your display will look like:
Your table will be half of an 8 ft. table (4' x 30") placed along the perimeter walls of the event.
You may bring a self-standing backboard.
A chair will not be provided.
A table cloth will cover the table.
Electrical power and WIFI is not available.
A tent fold sign, naming your company will be provided.
If you want to promote from your location, please consider reserving a manufacturers' booth in the exhibit hall. Go to https://mfgcouncilie.com/become-a-sponsor/ for more information.

When to set it up:
This year, you may set up your exhibit on the day before, February 13, between 8 a.m. and 3 p.m., or between 6 – 7:00 a.m. on February 14, 2019. No late load-ins will be accepted after
7 a.m., the event start time.
Your display will not be guarded unless your staff stands next to it. The display room will be locked from 3 p.m. on the 13th until 5:30 a.m. on the 14th.
Neither the Manufacturers' Council nor the Riverside Convention Center will be responsible for missing items.
MCIE or Riverside Convention Center staff, dollies or rolling carts are not available to transport your display.
You will receive a letter of acceptance which will also contains a registration code for your registration and ticket.
Please remember to register before February 8, 2019. (You can manage your own registration and change the names of your attendees from a link in your registration receipt.)