Keynote Speaker: Ed Magee, Fender Musical Instruments Corporation
Join Ed Magee, Fender Musical Instruments Corporation's SVP of Operations, for an inside look at the company's manufacturing transformation story and best practices for internal and contract manufacturing. In this presentation, Mr. Magee will explore leadership and innovation strategies at Fender, in addition to the company's rich history in manufacturing.
Since 1946, Fender has evolved its manufacturing processes with technological developments, always continuing to innovate to maintain its leadership in the musical instruments.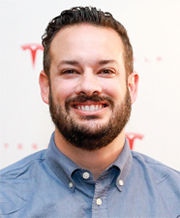 Opening Speaker:

Tony Sciarra, Program Manager, START & Services Programs, Tesla
Tony Sciarra has over 10 years of experience in technical and manufacturing recruiting, including the initial build-out of the Tesla factory.  Mr. Sciarra is now responsible for building programs for Tesla, while working with community colleges, trade schools, and vocational schools to build relationships with current students and outgoing graduates in order to cultivate robust pipelines of qualified candidates.
Mr. Sciarra will discuss the value of the long play when building candidate pipelines, along with creative ways to utilize local organizations and resources for creating hiring pathways.  The importance of investing in your workforce through training initiatives and programs.
Emcee: Kimberly Davidson, Economic Development Manager, City of Corona
In her role with the City of Corona, Ms. Davidson encourages the growth of manufacturers, entrepreneurs and tech companies. She has been in Economic Development for 10 years and previously owned a home-based marketing firm.
Ms. Davidson was named "Woman of the Year" in 2016 by Assemblywoman Melendez and received the "Citizen of the Year 2014" award from the Murrieta Chamber of Commerce. In 2008, she received the National Small Business Administration (SBA) Award for being a champion of home-based businesses. She serves on the Board of Directors for the National Association of Women Business Owners (NAWBO-IE) and the steering committee for the Inland Empire Women in Manufacturing (IEWIM). Ms. Davidson received a Bachelor of Arts in Journalism from California State University, Northridge.
Legislative and Regulatory Update Panel
Panel Moderator: Chad Miller, Director of Contract Manufacturing at American National Manufacturing
Having grown up in a family manufacturing business since the 1970s, Chad Miller has been exposed to Product Development and Manufacturing literally all of his life. At a young age, he started working alongside his parents and older brother, and has worked in all aspects of the business over the past 35 years.
Mr. Miller has helped the company to grow the Contract Manufacturing Division to new sales records and has won numerous awards and recognition by the California State Senate, California State Assembly and from the City of Corona.
Mr. Miller is a member of the Industrial Fabrics Association International and serves on the Exhibitor Advisory Committee. He is a member of the Maker's Board with the IFAI and is a trainer and mentor for the association as well.
Panel Participant: Todd Boppell, COO, National Association of Manufacturers (NAM)
Todd Boppell works directly with NAM President and CEO Jay Timmons to lead all aspects of the NAM's internal operations.  Specifically, Mr. Boppell manages the Finance and Administration division, along with overseeing the Membership and Strategic Development divisions.  He also serves as a member of The Manufacturing Institute's Board of Directors.
Previously, Mr. Boppell was a partner, COO, and cofounder of Meshfrog Inc., a consulting company.  He also served as president of Nexa Technologies, a multimillion-dollar software company that builds and hosts stock-trading platforms for a variety of firms located in the United States and Canada.
Mr. Boppell holds a degree in Social Psychology from The University of Southern California, and he splits his time between Washington D.C. and his home in Tustin, California.
Panel Participant: Lance Hastings, President, California Manufacturers and Technology Association (CMTA)
Lance Hastings is President of CMTA, a statewide trade association solely dedicated to advocating on behalf of California's manufacturing and technology companies. He will discuss ongoing efforts to improve the state's manufacturing climate.
Before joining CMTA in November 2018, Mr. Hastings had a long record of success on both the operations side with MillerCoors and on the advocacy side as a trade association lobbyist.  Hastings served most recently as Vice President of National Affairs for MillerCoors. He represented Miller Brewing Company and MillerCoors in Sacramento as Director of State Government Affairs, where he served on CMTA's Board of Directors.  Prior to that, he served as Head of Regulatory & Tax Affairs for SABMiller and starting in 1989 he worked in the California State Legislature for almost a decade as a chief consultant.
Mr. Hastings has a Bachelor of Arts in Economics and a Minor in Government from California State University at Sacramento.
Panel Participant: Sean Flynn, Ph.D., Economist, Associate Professor of Economics at Scripps College
Dr. Flynn teaches behavioral economics and behavioral finance at Scripps College in Claremont. After attending public schools in Los Angeles, Flynn completed both a bachelor's degree and a master's degree in Economics at the University of Southern California, which led to a scholarship to U.C. Berkeley, where he earned a doctorate in economics in 2002. While still only in his early 30s, his skill at explaining the economy gained worldwide attention after he wrote the international best seller Economics for Dummies. He is also the coauthor of the world's best-selling economics textbook.
Among other ventures, Flynn co-founded the first company to offer student loan default insurance and was a founding board member of Employment Means Success, a local non-profit that helps to find jobs for over 250 disabled workers each year.
Presenter—Innovation Awards: Lisa Anderson, MBA, CSCP, CLTD, President, LMA Consulting Group, Inc.
Lisa Anderson is the founder and president of LMA Consulting Group, Inc., a consulting firm that specializes in manufacturing strategy and end-to-end supply chain transformation that maximizes the customer experience and enables profitable, scalable, dramatic business growth.  Ms. Anderson is experienced in working with closely-held, private-equity backed and large, complex organizations in industries ranging from aerospace and defense, building and industrial products to food and beverage.
Often quoted in media outlets such as the Wall Street Journal and ABC News, Ms. Anderson is regularly invited to speak at conferences and events.  She recently published I've Been Thinking, an inspiring collection of 101 strategies for creating bold customer promises and profits.   Ms. Anderson lives and works in Southern California, where she is actively involved with clients and in the business community.