Developing a Future Workforce – Bill Rayl Presentation
As the need for skilled manufacturers' rises in the Inland Empire, employers look to future generations. On Friday, September 22nd, regional manufacturers met with top school administrators and stakeholders, at the Mission Inn in Riverside, to discuss building a K-16 pipeline for apprenticeships and jobs in the region. The event was co-sponsored by the Manufacturer's Council of the Inland Empire (MCIE) and Alan Braggins, Deputy Sector Navigator for Advanced Manufacturing in the Inland Empire/Desert Region.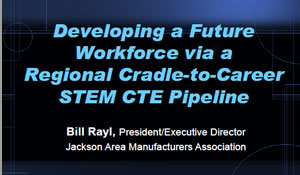 Bill Rayl, President and Executive Director of the Jackson Manufacturing Association (JAMA) in Jackson, Michigan presented several ideas and solutions for educators and manufacturers. He explained how after-school programs, summer camps, and in-school learning opportunities, starting as early as kindergarten, helped Jackson students imagine themselves as future manufacturers, engineers, inventors and entrepreneurs, which encouraged those students to pursue future careers in the industry.
View the MCIE Presentation – "Developing a Future Workforce via a Regional Cradle-to-Career STEM CTE Pipeline"